We can offer 4 kinds of plug:EU plug/US plug / AU plug / UK plug.
Please choose the option which you want.
Reminder before purchase
Dear customers,
Due to the recent adjustment of our TakTark brand Logo, the appearance of the BM611's monitor will change slightly. Currently, you may receive one of th two appearances as belows. No matter which kind of appearance you receive, it will not affect your use in any way. Thank you in advance for your understanding.
Internet or Wi-Fi is not required
This baby monitor is able to operate without Internet or Wi-Fi.
Note>>>>>
>The parent unit has a battery inside . It can work with battery or power adapter.
>There is no battery built in the camera. So the camera always need to be plugged into the power outlet while working .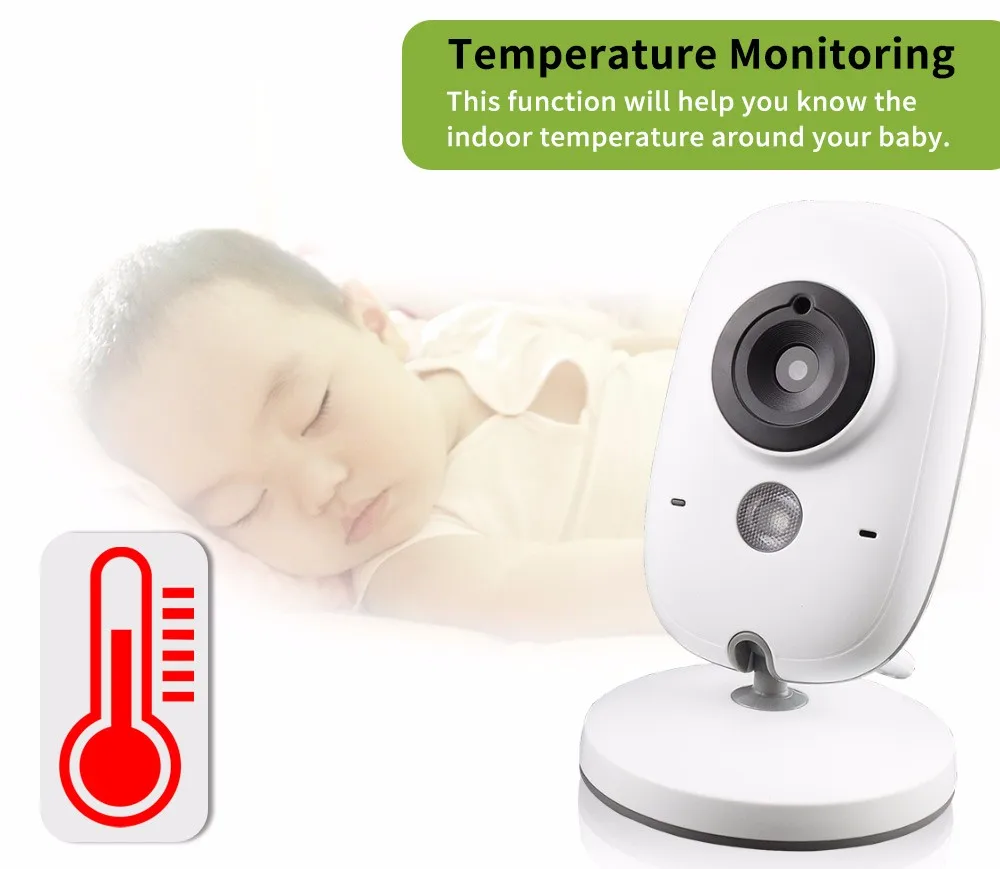 Features
1,Hassle-Free Portable Monitoring
2,Two way(talk back)
3,Temperature monitoring
4,Built-in lullabies in the camera
5,Automatic night vision
6,Secure, interference free, long range digital signal
7,High contrast 3.2″ color LCD monitor
8,Long battery life (18 hours in Vox mode)
9,Multiple languages support(English/French/Spanish/Portuguese/Italian/German/Russian)
10,Built-in lullabies may help the parent comfort the baby fall into asleep.
11,Know your baby's room temperature all the day long without worries!
12,Two way audio between the camera and monitor, you can talk back to baby.
13,Keep an eye on baby all night long with automatic night vision
14,No need to charge the battery for the monitor In the whole night in Vox mode
Specification
GENERAL:
1,Transmission Frequency: ISM 2400~2483.5 MHz
2,Transmission Power: 17dBm
3,Unobstructed Effective Range: 160ft/50m indoor/850ft/260m outdoor, line of sight
4,Spread Spectrum: AFH & TDMA
5,Modulation Mode: GFSK
6,Operating Temperature: 14 ~ 122° Fahrenheit/- 10 ~ +50° Celsius
7,Operating Humidity: <85%
MONITOR
1,LCD Size: 3.2″
2,Resolution Supported: 320 x 240
3,Receiving Sensitivity: -90dBm
4,Consumption Current (Max.): 200mA
5,Battery: Li-polymer / 750mAh,3.7V
6,Power Supply: 5V/500mA DC
7,Dimensions (W x H x D): 70mm x 120mm x 17mm
8,Weight: 0.08kg
CAMERA
1,Image Sensor: CMOS
2,Total Picture Pixels: 640 x 480 pxl
3,Minimum Illumination: 0 Lux (IR on)
4,Night Vision Distance: 15 FT (5m)
5,View Angle: Diagonal 45°
6,Power Consumption (Max.): 200 mA
7,Power Supply: 5V/500mA DC
8,Dimensions (W x H x D): 67mm x 106mm x 67mm
9,Weight: 0.1 kg